The Global Opportunity Youth Network (GOYN) is excited to invite you to save the date for our 2022 3rd Annual Global Convening, taking place from November 28, 2022 – December 1, 2022, in person in Bogota, Columbia. The goal of the convening is to connect and build community in real-time, share the impact of successful practices, and plan for our vision ahead in 2023 and beyond.
Convening sessions and conversations will include:
Strategies for tracking youth journeys and success across local ecosystems and opportunities leading to economic and employment advancement
Alternative financing for OY employment and entrepreneurship opportunities
Developing a Global OY Leadership Skillset to advance equity and structural justice
Designing a Global Narrative Change Campaign about OY
Strategies to mobilize around an emerging GOYN Global Equity Agenda 2023 and beyond
If you are unable to join us in person, there will be many opportunities to connect and attend virtual convening sessions. Over the coming weeks and months, we will share an event overview, and speaker profiles on our website and social media channels.
For more information about the event, visit our website over the coming weeks for more details or email Joel Miranda at joel.miranda@aspeninstitute.org.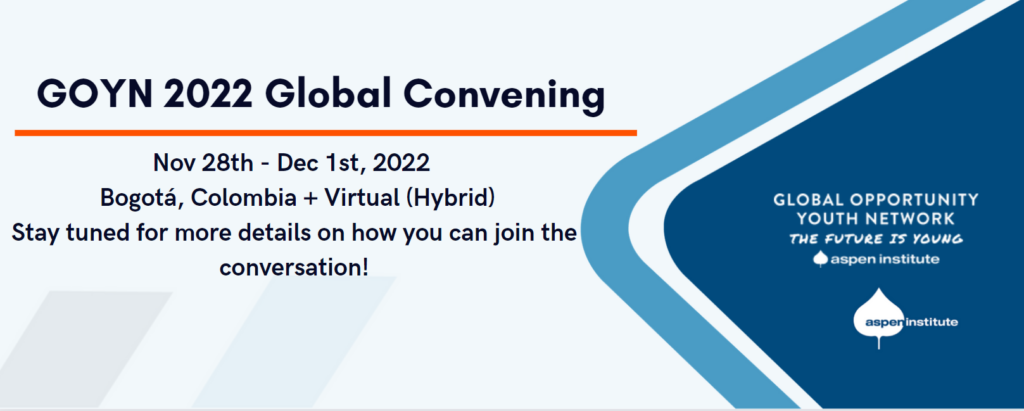 Stay tuned for more information on the official agenda, activities, and virtual options for those unable to join us in person.
---