The Future is NOW! Accelerating Inclusive Pathways to Economic Resilience
The Global Opportunity Youth Network (GOYN) is excited to invite you to join its Global and Community Partners, and Opportunity Youth Leaders from across the globe convening in Mombasa, Kenya (and virtually) for its 4th Annual GOYN Global Convening – November 6th-9th, 2023, as we convene to connect and build community in real-time.

As communities emerge and rebuild from the COVID-19 pandemic and prepare for ever-evolving local and global realities, GOYN partners and Opportunity Youth leaders continue to tap into their resilience* and innovative spirit to build sustainable livelihood pathways.
*Resilience is the ability to deal with adversity, withstand shocks, and continuously adapt and accelerate as disruptions and crises arise. The GOYN Convening will uplift stories and share practices that build societal and economic resilience in our network.
Societal resilience: A community's capacity to leverage collective action to recuperate from challenges and rapidly return to normal, to continue on a growth trajectory.
Economic resilience: The ability to recover efficiently from losses and minimizetheir impact on wellbeing. For GOYN, this means young people's capacity to weatherincome vulnerability, overcome setbacks, and build capital through livelihood pathways.
Join us LIVE during this in-person event with key moments for virtual participation, where partners, opportunity youth leaders, and global allies will gather to facilitate conversations on the power of place-based collaboration to accelerate opportunities for Opportunity Youth.
Join us for amazing kujifunza and kujibamba (learning and fun)!
Register Here (Virtual): 4th Annual GOYN Global Convening 2023
Select plenaries, panels, and performances will be live streamed for global participation via the Zoom Webinar Platform. *Topics and timings to be shared in the coming weeks.
Tuesday Nov 7, 2023
Convening Kick-Off Plenary: Resiliency and the Power of Place in Mombasa
Wednesday Nov 8, and Thursday Nov 9, 2023
Opening youth performances and keynotes, and panel conversations will be shared virtually.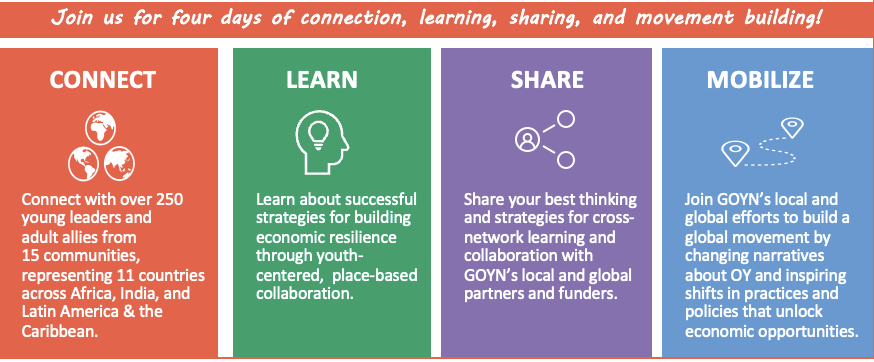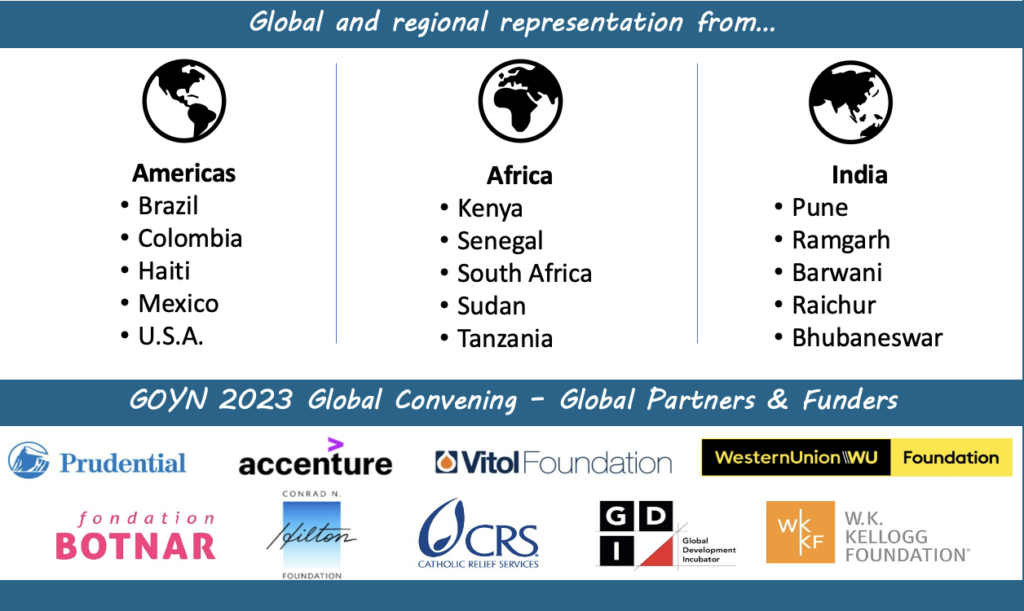 In the coming weeks, stay tuned for the convening's final agenda and come ready to share, listen, and learn from each other!
Please email joel.miranda@aspeninstitute.org with any questions you might have about the convening and if you are interested in joining in-person.
We hope that you will join us!